Think of internet speed like water pressure: it's all about how much volume is moving in a given amount of time. (With water pressure, it's technically about how much volume is moving in a given amount of space, but for practical purposes, this analogy holds up.)
Computers connected to the internet transfer information to each other in electronic packets. A packet is simply a unit of data. Think of it as a drop of water. Just as more water pressure will deliver more drops of water in a shorter amount of time, a faster internet connection will deliver more electronic packets in a shorter amount of time. The volume of data transferred through a connection in a given amount of time is that connection's internet speed.
For example, you could technically wash your hair with water barely trickling out of the shower head, but having enough pressure to quickly rinse the shampoo out makes all the difference. As far as internet speed goes, you could technically stream a video by watching one or two frames at a time and then waiting for it to buffer for a few minutes, but nobody wants to do that. A faster internet speed will make everything you do online a smoother experience.
How Much Speed You Need for:

Netflix internet speed requirements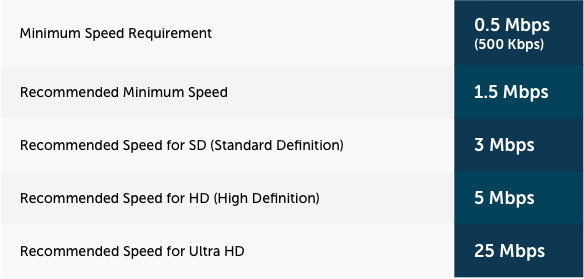 Those speeds are based on one streaming device. So if you plan to have multiple people streaming different shows at the same time, you'll need to add the numbers together. For example, if you think you may have Netflix streaming simultaneously on a tablet, a phone, and a smart TV, you'll need 3 Mbps each, for a total of 9 Mbps.
How Much Speed You Need for:

Apple TV internet speed requirements

Apple bases its speed recommendations on three tiers of picture quality: Standard Definition, Mid-Definition, and High Definition. This keeps things simple. Be sure to add extra speed if you plan to stream multiple shows at once.
How Much Speed You Need for:
Whats App internet speed requirements
WhatsApp voice calls are theoretically free, but the internet itself is not. If you're sitting in a cafe sucking up free Wi-Fi then there is no cost involved at all, other than the overpriced Chai latte you're probably sipping. But if you're using your own data connection then you will of course be spending money in the form of data allowance when you make WhatsApp calls.
The data consumption varies quite widely, but seems to be roughly in line other test made out there. Data Monitor produced results that ranged between 800 KB – 1.3 MB with an average of 960 KB per minute. The Android system gave us a lower average of 600 KB per minute.
Even if you average these two results it is pretty clear that, for us at least, somewhere 800 KB/minute is definitely not something we would want to be relying on for calls. At these data rates there is no way we would use WhatsApp calling to replace our traditional voice calling as the cost is just too high and we value our included data for other things. If you can limit your WhatsApp calling to Wi-Fi connections however, then there's no reason not to make use of the service.
How Much Speed You Need for:

YouTube internet speed requirements


YouTube does the best job of making its internet speed recommendations easy to understand. YouTube even makes sure to warn users its recommendations are per device and recommends adding 3 Mbps for each device streaming in SD at the same time.
How Much Speed You Need for:

PlayStation™ Vue doesn't break down its speed recommendations into tiers of picture quality the way Netflix does. Instead it offers a flat recommendation of 10 Mbps. It also recommends an additional 5 Mbps for each additional device streaming simultaneously. Remember, these speeds need to be added together to get the accurate speed recommendation. For example, three streaming devices operating at the same time will need a total of 20 Mbps: 10 Mbps for the first device, 5 Mbps for the second device, and 5 Mbps for the third device.
What follows is a listing of normal high-speed Internet streaming activities and the minimum broadband speed needed to perform them without issues like stuttering video or extra buffering.
1 Mbps: Streaming compressed (MP3, AAC, etc.) music. Streaming SD quality video on your laptop or desktop computer. Normal web surfing. Compressed music streaming.
2 Mbps: Streaming lossless music. Streaming SD quality video on your TV.
5 Mbps: Streaming HD (720p) video.
10 Mbps: Streaming Full HD (1080p) video with high definition audio.
25 Mbps: Streaming 4K or Ultra HD video.
Understand that these bandwidth ratings assume only one computer is using the Internet connection at a time. If the wireless router at your home regularly has multiple users connected to it, the overall streaming performance and transfer rate for all devices suffers accordingly. At this point, investing in a high-end dual band router with beam forming capabilities helps to improve streaming performance.
The bottom line is that performing regular Internet speed tests gives you the basic amount of data to begin to diagnose any media streaming problems on your home network. We help you figure out the issue without relying on a Google search.